The first inklings of an idea about One Shot Distillery happened on the Range after a Combat Pistol Course. When the students and I were picking up brass and putting up gear, one of the guys asked what I was going to do when I retired. The Army offered me the opportunity to earn my MBA and the entrepreneurship course was fresh on my mind. I had the idea to create a spirit specially designed for toasting comrades both past and present. One of the guys in the course, a fireman, spoke up and said, "I happen to know where there's a whole commercial distillery worth of equipment packed up in and storage you could probably get for a good deal." I wasn't that serious yet but told him I would think about it and eventually we went out to look at the equipment and met a gentleman by the name of Jim Sargent. He had started the first legal distillery in the Hawaiian Islands post-prohibition and was very successful at making Maui brand rums. We eventually came to an agreement on the equipment and with the promise of Jim's tutelage bought his distillery gear.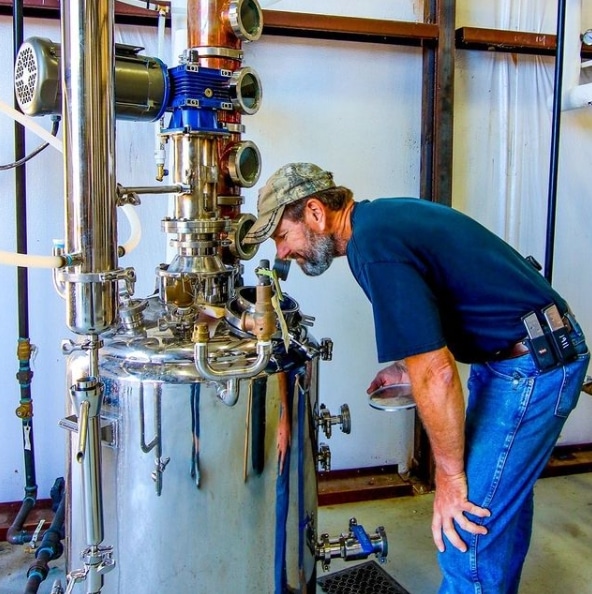 We started looking at the basics of a business plan and studied the markets to see how we could be successful in the craft distillery business with giant competitors like Tito's and Deep Eddy. We designed the brand that we thought would be compatible with our shooting and training lifestyle and would fit in with military and first responders as well as veterans of those trades. After lots of research and a little bit of fundraising we found a spot with a big Texas Flag already painted on the side of the wall in Dripping Springs, TX and we started building One Shot Distillery.
About the time we were ready to start looking for property to build this project, another Wimberly-ite came into our lives. Stew Altmeyer was making great beer down in Guadalupe County and decided he needed to move operations. After sampling his Doppel Bock and Hefeweizen, we knew that he had to become part of this new team – plus he really wanted to learn the distilling part of the operation as well.
When we started the building project, our basic task was to convert a "Barndominium" into a Distillery/Brewery. With the help of buddies in the Aggie Network and the local Mason Lodge, we were off to the races. Hanging electrical trays with All-Thread and running hundreds of feet (and pounds) of wire to run all of the equipment was the first step – that ran into the steam plumbing system which entailed cutting and threading the black pipe to run the heart of the cooking system. The Glycol system was adapted from Stew's original brewery equipment, so we plumbed it together to fit on the new catwalk – which makes operations much easier.
Our taproom build out process was extremely hands on and DIY. My Marine Battle Buddy from Iraq, Scot Sauer, reclaimed wood for our Taproom walls from a World War II Temporary Barracks (that were still in service across the country until the 1990's), we hand made the furniture, sign, and after a lot of help from friends ended up with a great looking taproom, biergarten, and restrooms ready for customers. We're continuing to expand and improve things here at One Shot, but are very excited to be fully open to customers and making great spirits and beer. As a manufacturing Distillery and Brewery, we can only serve what we make here at One Shot. We currently distill Vodka, Rums, Texas Whiskey, Liqueurs, and brew almost a dozen different craft beers. It's a blast working with the dream team!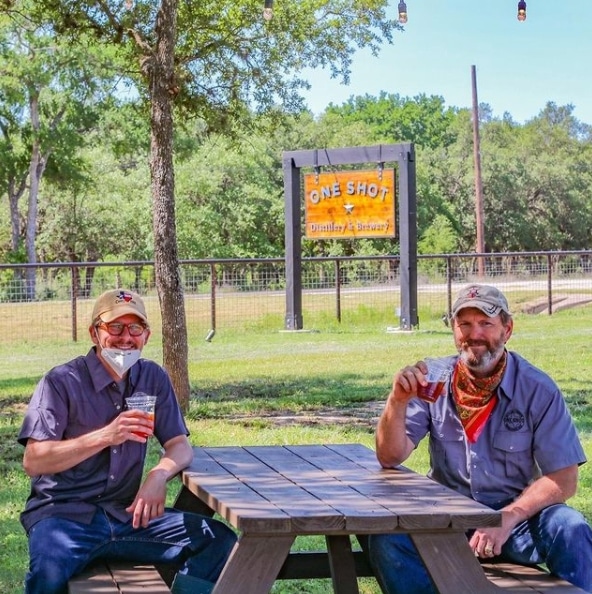 CRAFT GREAT PRODUCTS
SUPPORT GREAT PEOPLE
Looking for One Shot Spirits & Beers at your local Bars, restaurants, & stores?
We're getting production ramped up to start distribution of One Shot Spirits & Craft Beers to a location near you very soon.